Delivering experienced, reliable bird dropping removal services with competitive pricing across Melbourne & greater Victoria.
With over 30 years experience in high pressure cleaning and hard surface cleaning, we've removed bird dropping buildup from hundreds of building facades and other structures – Your business will benefit from our years of expertise.
The negative effects of bird droppings are not only aesthetic – bird faeces attract pathogens, which can lead to severe respiratory problems when people are exposed to them in high quantities. Years of buildup can be considered a health risk if not attended to, as it can harbour numerous diseases and also be a slipping hazard in certain circumstances. Be in touch to remove any unwanted bird droppings before they pose a serious health threat to colleagues, customers or your family.
Buildings covered in bird droppings (most often pigeon droppings) can also be quite the eyesore. It can really bring down the look of your house or business, potentially reducing the value of your home, or the amount of custom your business receives. Years of build up can seem like an impossible clean up task without the correct equipment, so contact us if you are looking for the most complete bird dropping removal service.
Before & After Shots
View our most recent before and after shots of our bird dropping removal service by clicking on the image below. We can remove bird droppings from buildings, floors, fences, homes, and vehicles across Melbourne. Interested in our bird dropping removal pricing? Contact us today to discuss your requirements & to receive a free quote.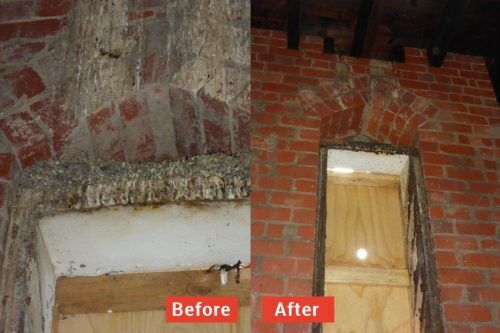 What Our Clients Are Saying
As a Body Corporate we chose Aatach to clean the rendering of 5 double storey townhouses in Frankston South. Frank was efficient in quoting and completing the job in a number of days. The units look an absolute treat and it was money well worth spending. Thanks Aatach.
Jenny, Frankston South
Thank you so much for the great job you did, looks great!
Bernadette and Gavin, Skipton
Aatach Services was prompt and professional. They were very attentive to all the details and our Californian Bungalow now looks like it was painted yesterday. Aatach cleared away the cobwebs and grime and left us with sparkling windows and completely clean weatherboards. It was a great result.
Susanne
You have done an absolutely brilliant job. Thank you so much. I will be recommending your work to as many people as possible.
Kirstie, Ringwood East
Just wanted to pass on how impressed I was with the result of the house wash. Looks great and you did an amazing job on the front porch.
Carmelia, Blackburn
Thank you so much for bringing our sails back to life! They look gorgeous. Many Thanks.
Jo, Mount Waverley
I thought I would mention that we have had a number of people comment on how the property looks after you finished, as well as what a good job you did. I will be happy to recommend your services should anyone ask for your details.
Matthew, Sanctuary Lakes
Thank you Frank, you and your nephew did a lovely job of washing our house.
Robin, Wonga Park
I just wanted to let u know that i am extremely happy with the job you did and would recommend you highly to anybody looking for a job done.
Lori, Wattle Glen
Thanks for the excellent job you did on my pavers – I appreciate your attention to detail, it all looks great.
Noreen, Ringwood North
Frequently Asked Questions
Aatach Professional Pressure Cleaning Services vs. Calling a Painter
Does your building or house suffer from mould, mildew, grime, water staining, smoke damage or unknown stains?
Many businesses and homeowners repaint their buildings when they begin to look tired, worn or dirty. In many cases a short visit from our high pressure cleaning specialists can have your building looking fresh and new – no painting required. Contact us today for an obligation free quote!